Whether it is you yourself or a loved one who is ready to celebrate their 15th anniversary, you can check this list of gift themes linked with this anniversary year. There are no specific rules, so you can pick from the various colors, materials and items associated with this anniversary to offer a gift that is unique to the recipient.
Traditional Gift Theme: Crystal
Stunning and dazzling thanks to its multifaceted surface, crystal signifies the true beauty of inspiring love radiating from two people who see their moral values reflected in the other. Crystal is easily broken, reflecting the care with which this long-lasting marriage has been handled, while reminding the pair to never take each other for granted.
Modern Gift Theme: Watches
Within the institution of marriage, time is representative of enduring devotion.
Gemstone: Ruby
Substitute: Rhodolite; Blue Sapphire
Flower: Rose
Red is the color linked with the 15th anniversary, and so there is no more perfect rose to mark this special day than a red blossom. This classic symbol is a reflection of romantic love and deep passion, the very essence of perfect love.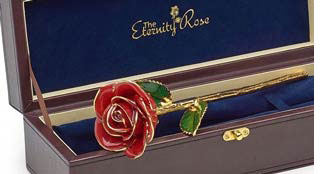 Color: Red
Popular Traditional Gift Ideas
• Crystal home wares (eg, vase, bell, wine goblets, bowl/dish, jug/pitcher, candle holder)
• Crystal figurines
• Crystal paperweight
Popular Ideas for Traditional Gifts
• Homewares made from crystal such as a vase, wine goblets, dish, bowl, pitcher, bell, candle holder or jug
• Crystal paperweight
• Crystal figurine
Popular Modern Gift Ideas
• A watch
• Ruby jewelry such as a pendant, necklace, ring or bracelet
• Blue sapphire or rhodolite jewelry as the alternate gemstones linked to the fifteenth anniversary
• One very suitable present for this wedding anniversary is the Red Glazed Eternity Rose or the Dark-Red Glazed Eternity Rose as these represent the color red and the rose which is linked to the fifteenth wedding anniversary
• Gifts with a rose theme such as an art print, perfume, scented candle or plant
• A box or bouquet of roses
Here is a video of the Red Glazed Eternity Rose

Below are the following 5 anniversary years to inspire future gift ideas:
16th wedding anniversary gift ideas | 17th wedding anniversary gift ideas | 18th wedding anniversary gift ideas |
19th wedding anniversary gift ideas | 20th wedding anniversary gift ideas |