The Canadian Father's Day Gift Guide
A father is a key person in his children's lives. From the very start, he is the person we can depend on to provide and be there to protect us. Fathers are there to remind us to keep pushing, never give up, and to be proud of who we are and the things we a ccomplish. A father is his baby daughter's first "love" and his son's first hero.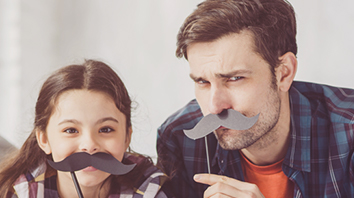 Celebrated on the third Sunday of June each year, Canadian Father's Day is a day dedicated to our dads, fatherhood, and the importance of fathers in the household and society.

Father's Day is the day to let our dads know how great, appreciated, and loved they are. Whether you do this by getting your dad a cool gift or spending time together, this Father's Day gift guide will help you find the perfect idea for a Father's Day present.


Unique Father's Day Gifts for Every Dad
Sometimes, the more a person means to us, the harder it is to decide on the perfect present. This is especially true for special occasions such as Father's Day. But don't worry! If you really want to out-do yourself this year, a useful tip is to keep Dad's personality in mind and match it with gifts in the "apparel, accessories, and knowledge" categories. Here are the top Father's Day gift ideas this year.
Outdoorsy Dads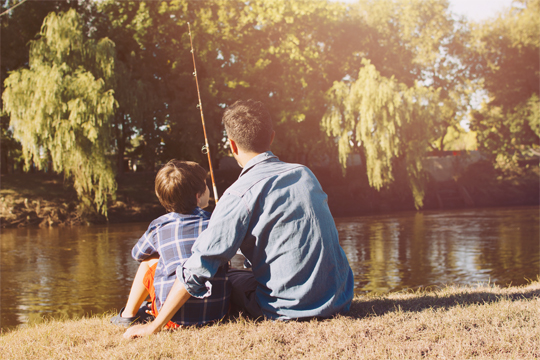 Canada is filled with gorgeous lakes, thick forests, beautiful parks, and roaring oceans, which is probably why most of us are naturally attuned to the outdoors. If your father or husband is an outdoorsy man, surprise him with a Father's Day gift he will be able to enjoy in nature. First, keep in mind what his outdoor thrill is. Is it fishing, or possibly hiking? Maybe he's into mushroom-picking, or perhaps bird-watching? A season pass to his favourite national park would be a good start. Think of apparel he might need, such as bags, jackets, glasses, gloves, or headgear. Spoil him with accessories such as a new set of binoculars, a hammock, or other outdoor specialty gear unique to his hobby. To complete the gift, add a nature guidebook!
Handy Dads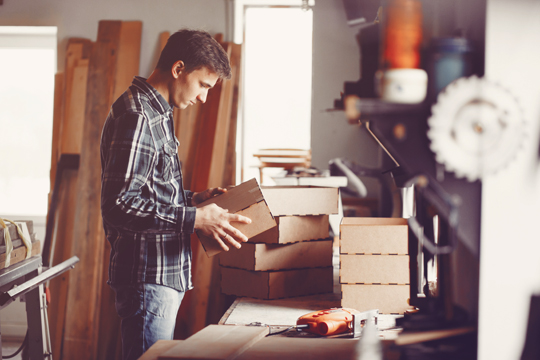 For the "jack of all trades" who insists on doing home renovations and car repairs on his own, never underestimate the power of brand-new tools. He might not need that welding machine or that stud finder right away, but let's be honest, he'll need it at some point. Take a look at what he already has, or ask him discretely about what he wishes he had in his shop. Some of the essentials include cordless circular saws, cordless drills, electrical testers, hammers, screwdrivers, wrenches, levels, shop vacs, and wire strippers, to name a few. So, if Dad is a seasoned repairman, try investing in something more specialized, such as a reciprocating saw, a welding mask, or mobile tool-organizer units for his garage. Complete the gift with a nice book that explains everything he needs to know about his future endeavours.
Sporty Dads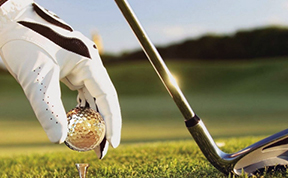 As we know, Father's Day in Canada is during hockey's off-season, which means most men are out playing golf! If your dad is a golf addict (as many are!), spoil him with a luxurious gift like this Golf Ball & Tee Set dipped in 24 Karat Gold. He'll be mesmerized by how prestigious it looks in his office or display case. We also have a playable version for those who prefer to play in style. Want to really spoil him this year? Pair these awesome gifts with a surprise ticket to a championship hockey game! Whether he likes to play the game or simply watch, you're all set for success!
Dapper Dads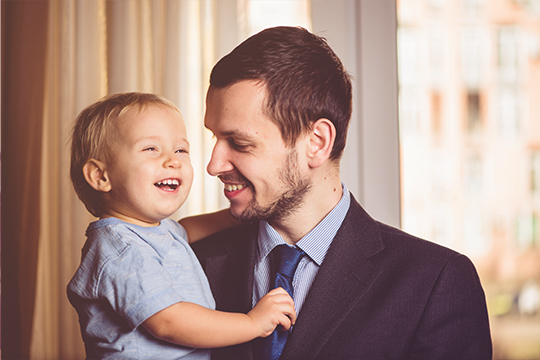 Contrary to popular belief, not all men are lumberjacks and arctic expeditors out here. Some fall on the more intellectual and artistic side of the spectrum. Dapper dads enjoy the finer things in life, such as culture, fine objects, history, plaid, and debates about abstract concepts over a fine glass of Scotch. If your Dad is an old-school gentleman, he's the kind of man who would appreciate quality and nostalgic gifts. This is a good time for vintage mechanical watches, new additions to his ever-growing collections, a fine bottle of Scotch or liqueur, leather goods, books, or office décor (desk clocks, magnifying glasses, luxury paperweights, etc.). Dapper dads love exclusivity, so make sure whatever you get him is unique in some way!
"Cool" Dads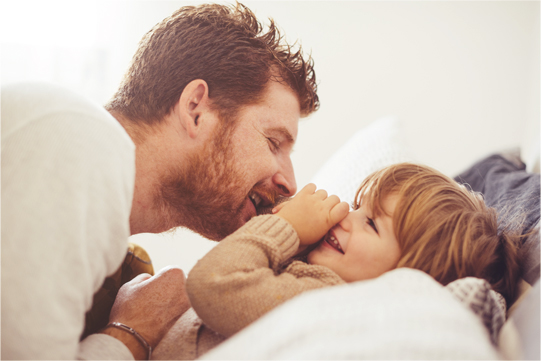 "I'm not a Regular Dad, I'm a Cool Dad" – words spoken only by fathers attempting to fit in and connect with their kids. This is the kind of dad who laughs at jokes he doesn't fully understand – and comes up with even funnier jokes himself! Everybody loves him because he's a teenager in an adult's body. He's the one who lets the kids get away with trouble because he wants to have fun too. He's the kind of guy who's still up at 2 AM winning that poker tournament and making everybody laugh. If your dad is a Cool Dad, get him a gift he will forever thank you for, such as 24 Karat Gold Dipped Poker Cards. Not only are they unique and impressive to everyone, but he also totally deserves a golden deck for all the fun times you've shared together – and the many more to come!
Best Father's Day Gifts for First-time Fathers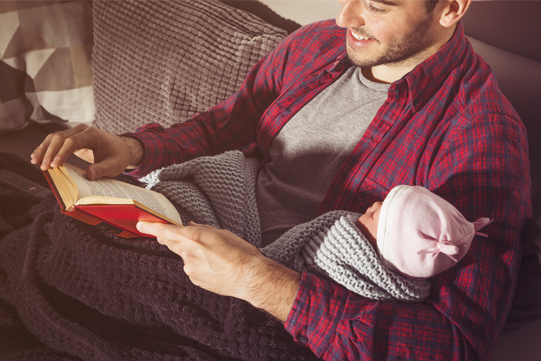 For men who are celebrating Father's Day for the first time this year, this occasion will most likely be about helping these dads get into the rhythm of fatherhood. With a newborn, first-time fathers need all the help they can get. This young dad will appreciate gifts that make his routine a little easier. Examples include baby travel accessories such as strollers, carriers, bottle warmers, or even diaper bags. This is also the perfect year to get him that "#1 Dad" coffee mug, a cozy robe for when he has to get up in the night, or books for him to read to the baby. Too sweet.
Special Father's Day gifts for Grandfathers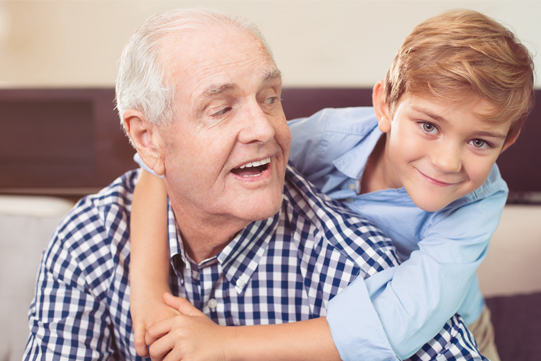 For men who are celebrating Father's Day for the first time this year, this occasion will most likely be about helping these dads get into the rhythm of fatherhood. With a newborn, first-time fathers need all the help they can get. This young dad will appreciate gifts that make his routine a little easier. Examples include baby travel accessories such as strollers, carriers, bottle warmers, or even diaper bags. This is also the perfect year to get him that "#1 Dad" coffee mug, a cozy robe for when he has to get up in the night, or books for him to read to the baby. Too sweet.
Last-minute Gifts for Father's Day
If you're running out or time (or money), here are some easy last-minute ideas for Father's Day gifts that offer value for the money you will spend.
Outdoorsy Gifts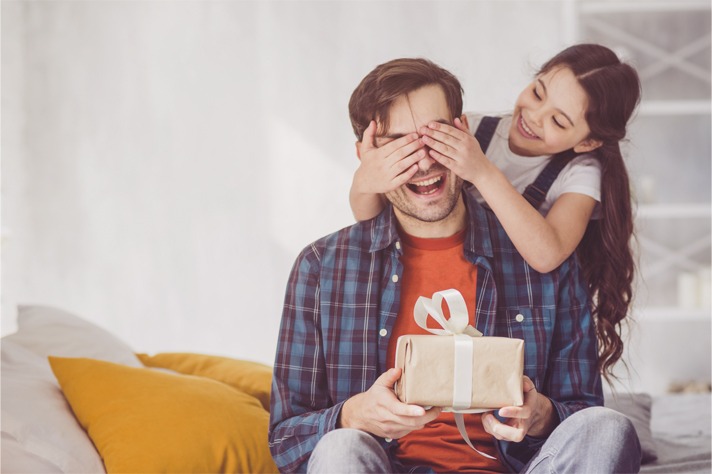 Outdoorsy types tend to focus on practical things that will make their outings more efficient. If you're in a pinch, consider getting your father something useful: a stainless-steel camping mug, for instance, or new fishing gear accessories. He might like a new camping knife or a pair of all-season wool socks. Don't feel silly about these socks: All-season socks are a staple item for every Canadian nature enthusiast!
Handy Gifts
Sometimes, purchasing tools can be pretty overwhelming, especially if you're not sure what your father already has in his workshop. Tools can also be quite expensive. There are a few little things, however, that handy dads always need and appreciate. Check out your local hardware store for items such as a new pair of work gloves, protective eyeglasses, a gift certificate, or a popular mechanics/woodworking magazine. Worried he might already have it all? Don't fret. Handy dads not only take pride in the number of supplies they own but also tend to go through their stuff quite fast. He'll appreciate spares!
Sporty Gifts
Sports equipment and game passes can be tricky to guess, so here are some simpler last-minute ideas to try: a textured foam roller for his aching muscles, his favourite pre- and post-workout supplement, a new set of beer glasses for Hockey Night in Canada, a clear tote bag for strict stadiums, new wristbands, a sports or car magazine, or a free local game (don't forget snacks!).
Dapper Gifts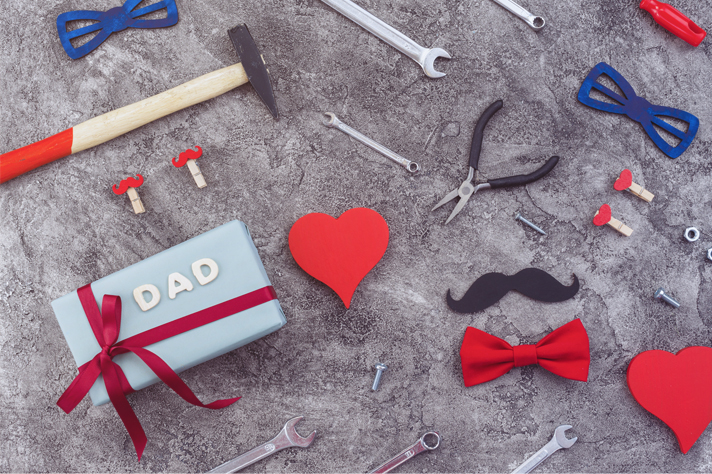 For the refined dad, unique last-minute gifts include whisky "stones" to keep his drink cold without diluting it, a quality shaving kit, a fresh new cologne, leather gloves, or perhaps a nice leather journal to preserve his memoirs.

Geeky Gifts

Some dads live in the future. If your dad is one of them, there are all kinds of geeky gadgets that will make his day a happy one. Think of Bluetooth speakers and wireless earphones, password protected external hard drives, wireless charging pads, solar-powered security cameras, wireless screen-sharing devices for computers and televisions, or a simple t-shirt with his favourite comic book character on it.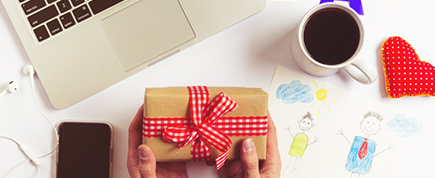 For jet-setters, a leather toiletry bag with his initials on it – a chic addition to his travel kit
A personalized butcher's block with a custom logo and "brand" name for dads who take their BBQ seriously!
A keychain with a special message
Funny Father's Day gifts like socks with his face (or yours!) on them. Make him laugh!
Personalized Gifts for Father's Day
According to a survey, novelty gifts like "#1 Dad" mugs and keychains are cute, but they're not really on Dad's wish list. However, there's nothing wrong with adding personalized goods as "little extras." Here are a few ideas for underrated personalized gifts sure to make him feel special. Make sure to order ahead of time!
A framed photo of the two of you (or a family photo he loves). Classic!
A duffle bag, briefcase, gym bag, or toolbox with his initials on it
A coffee mug with a custom photo and message printed on it. Start the day right, Dad!
A customized steak branding tool
Fun Canadian Father's Day Activities for Adults
Father's Day happens to be during one of the most vibrant times of the year: The weather is scorching hot, street festivals and fairs are happening, and everybody is in a great mood because it's summer. The sheer size of Canada means there are endless possibilities of what you can do, depending on which area of the country you live in.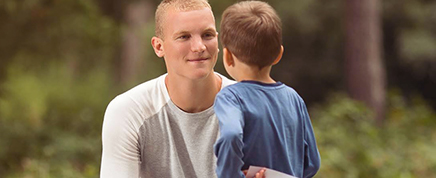 City
If you live in the city, take your dad to a concert or symphony. Perhaps he would like to go on a company tour (many office buildings and headquarters offer free tours of their building) or attend a car show, touring exhibit, or jazz/comedy/fringe/food festival.
Country/Mountains
If you live in the country or close to evergreens, why not see if you can take your dad on a wine-tasting tour at a vineyard, check out a new camping trail, take him 4-wheeling, go to the local diner for some good ol' pub food, or see if there's a country concert coming to town. If he likes fishing, take him fishing. If he likes to golf, take him to his favourite golf course – and don't forget his new lucky
ball
!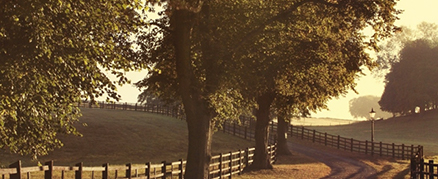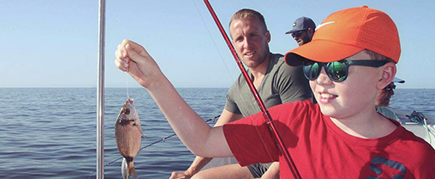 Maritimes/Sea
Summer is the best season to be in the Maritimes. The seafood, the beaches, the friendly people...Because the Maritimes are seasonal provinces, many events happen on and around Father's Day, when the weather is nicest and the tourists are in town. You could take your father out for ice cream (or calamari and beer) on a wharf, go on a fishing boat tour, try a whale-watching tour, or take him to a seafood festival!
Canadian Father's Day Outings with Children
Father's Day is a precious day, especially when young children are involved. This year, spend the day together doing things the whole family will love. You could go to the zoo, indulge in a picnic, have a beach day, go to a laser tag game, visit a petting zoo, or have a bonfire with s'mores and hotdogs. The great thing about Father's Day is that many places, such as sports clubs and stadiums, offer special prices for dads and kids for various events. Check what's happening in your city: You might get lucky and get free passes somewhere!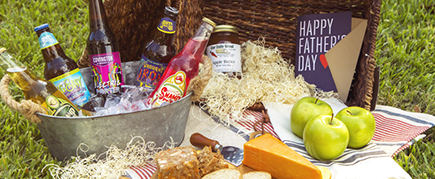 Ideas for Father's Day Greetings









Fun Facts & Statistics
According to Stats Canada, there are 8.6 million fathers in Canada (this includes biological, adoptive, and step-dads).
The beaver, one of Canada's national symbols, is one of the only male creatures that stay close after mating to help raise the offspring. In some unusual cases, male beavers have even been seen taking on the role of a single dad.
The number of Canadian stay-at-home dads has tripled over the last 25 years. About 12% of fathers stay at home while the mothers go to work.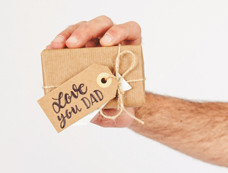 Did you know that in a survey, 21% of fathers said Father's Day is "just another day" and aren't really expecting anything special? At the same time, did you know that despite what they may be telling you, Canadian dads want to be celebrated? Go figure!
For the ones expecting to be acknowledged, 41% said they prefer to spend time with their family above all else as a way to celebrate their day.
That same survey said that Canadians tend to put more effort toward Mother's Day than they do for Father's Day. A whopping 87% of Canadian dads agree that Mother's Day has more weight than Father's Day. And, poor dads – one in three fathers said their feelings would be hurt if they came second to Mom.
However, when it comes to spending, people spend quite a bit on Dad. In fact, "they're going to be spending upwards of $119 on the overall experience for Dad this year," according to
RetailMeNot.ca
.
Whatever you do, keep in mind that gifts aren't the only thing Dad wants. Although he may pretend he doesn't want a formal celebration, he most definitely does.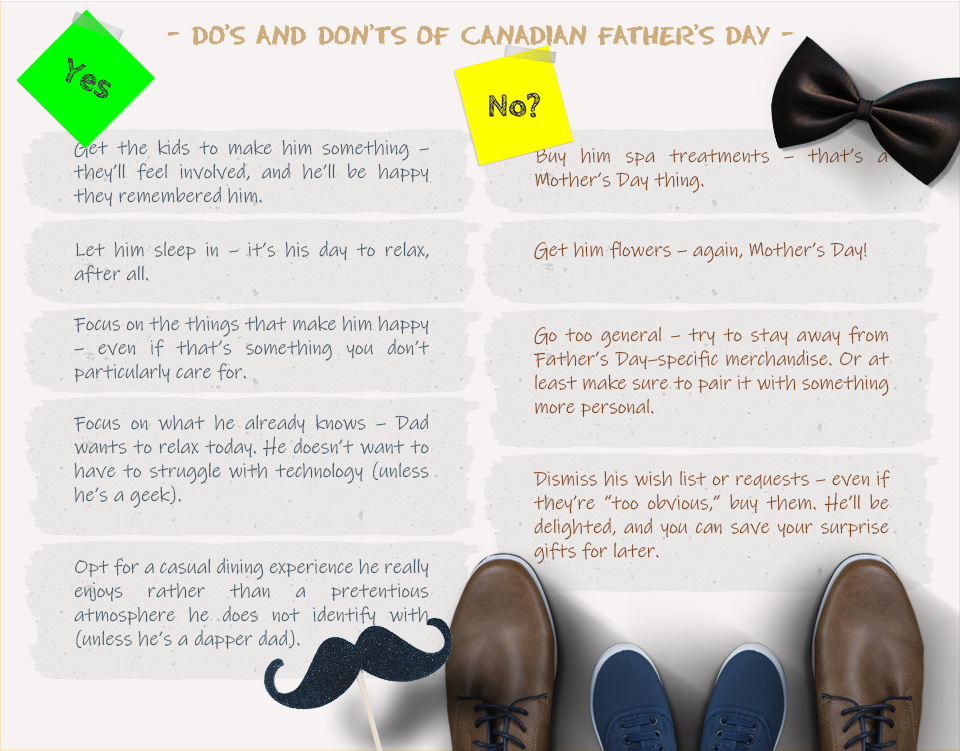 Father's Day Feasts!
Dad's Classic BBQ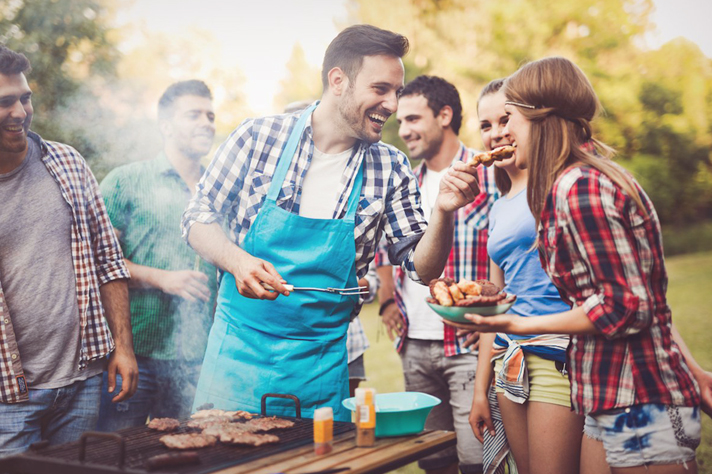 Have your extended family over and celebrate Father's Day on the grill this year. Hamburgers, short ribs, lobster rolls, potato salad, Caesars (read on for recipe), and cold beer are Canadian summer classics. Don't forget to put on some of Dad's favourite jams in the background.


Dad's Annual Summer Roast

Some Dads are pretty intense, let's say, when it comes to summer BBQs. They prefer a reason to have the entire family, friends, neighbours, and friends of friends come over. This might be the perfect time to let your dad have his annual pork roast. Some people might be against the idea of having a roast in the backyard, but it's a common Canadian summer activity that men typically enjoy (and manage together among themselves) and that is great for bonding and feeding family and friends. While he's having a great time preparing the roast, you can be in charge of the sides, salads, and making sure everyone has a drink in hand!

The Patriarch's Family Dinner

For close-knit families, Father's Day dinner is a time to put the oldest generation in the spotlight. Grandma makes her famous desserts, aunts and uncles bring their specialty dishes, and all generations come together for this Father's Day tradition. This is a way to celebrate the patriarch's legacy and to give him thanks for giving his kids and grandkids values, memories, and, most of all, life.
3 Typical Canadian "Dad Recipes" to Try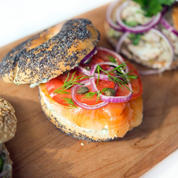 1. Bagels n' Lox Breakfast Classic
A Montreal classic. This Bagels n' Lox sandwich is an easy menu item for Father's Day brunch. Made with smoked Atlantic salmon and loaded with cucumbers, shallots, dill, capers, and cream cheese, this sandwich is easily customizable and absolutely delicious!
Ingredients (4 people)
4 everything bagels, cut in half
Bacon chive cream cheese
2 tomatoes, thinly sliced
8-12 oz smoked salmon
2 small shallots, thinly sliced
Capers, to taste
Freshly cracked pepper, to taste
Fresh dill
Additional options for toppings:
Sliced cucumber
Sprouts
Microgreens
Lettuce
Hummus
Roasted red pepper slices
Olives
Instructions
Assemble sandwich in this order:
Bagel
Cream cheese
Layer tomato slices
Top with smoked salmon
Garnish with shallots, dill, capers, and pepper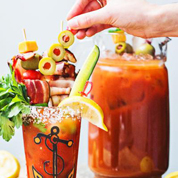 2. The Ultimate Bloody Caesar
Americans have Bloody Marys; we have Bloody Caesars! This recipe is loaded with tasty toppings, making it almost count as a meal itself. It's the perfect drink to ease smoothly into your Father's Day BBQ party!
Ingredients
2 oz vodka
2 oz Motts Clamato juice
1/2 oz lemon juice
1 big dash Worcestershire sauce
2 tsp freshly grated horseradish
3 dashes Tabasco
2 pinches celery salt
1 pinch black pepper
Garnishes:
Lobster leg (cooked)
Whole shrimp (cooked)
Bacon
Celery stick
Lemon wedge
Pickled green beans (preferably spicy)
Capers
Cherry tomatoes
Mini sweet peppers (fresh)
Cornichons
Black lava salt for the rim
Toothpicks or bamboo sticks to help secure the toppings
Directions:
Add all the cocktail ingredients into your shaker.
Fill with ice and shake for 10 seconds.
Using a slice of lemon, moisten the rim of your pint glass and dip it in the black lava salt.
Pour the entire contents of the shaker into your salt-rimmed pint glass.
Add as many of the garnishes as humanly possible. Use toothpicks and bamboo sticks if needed.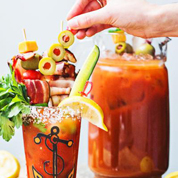 3. Fall-off-the-Bone Ribs
Prep time: 15 minutes – Cooking time: 1 hour 45 minutes
Ingredients
2 racks baby back pork ribs (5 lbs total)
1/2 cup barbecue seasoning rub
1 & 1/2 cups mild barbecue sauce
Directions:
Prep. Heat oven to 375°F. Line the bottom of a baking sheet with heavy-duty foil for easier cleaning. If the ribs have the silver skin attached, peel it off and place the ribs on the baking sheet. Season all over with rub. Cover tightly with heavy-duty foil.
Roast. The ribs will turn out tough if you cook them directly on the grill—by roasting them first, you break down the tough fibres, resulting in super-tender meat. Roast in the oven for 1 hour. Uncover; brush ribs with half of the barbecue sauce. Re-cover with foil and return to the oven for 30 minutes, or until ribs are fork-tender. (If not being served immediately, cool ribs to room temperature. Refrigerate up to two days before grilling.)
Grill. If the ribs have been refrigerated, bring them to room temperature. Heat an outdoor gas or charcoal grill to medium-high. Grill ribs, brushing with sauce and turning several times, until slightly charred and glazed, 10 to 15 minutes.
Serve. Transfer ribs to a cutting board. Brush with any remaining sauce. Cut into single portions and serve!
In Loving Memory of Your Father
Father's Day is around the corner, and for many, this signifies an emotional time since the loss of their fathers. If your father is no longer with you, Father's Day is most likely one of the most difficult times of the year. Below are some ideas on how to honour your father in beautiful ways that will, hopefully, make you feel closer to him on this important day.

Do Something He Loved
Maybe your dad liked to go camping. Maybe he loved flea markets. Maybe his passion was the symphony. Maybe he spent his weekends fixing things around the house. Spend Father's Day doing whatever gave your dad the most pleasure in life. Though it may not be your thing, it will bring you closer to him.

Visit His Favourite Place
Places have a unique way of bringing people closer and helping them better understanding one another. How about going to a place your father used to love? By visiting a site or location that brought joy into his life, it could do the very same for you. It might also make you feel especially close to him during your visit.

Cook a Special Meal
There's nothing like cooking a meal for a man who you know will rejoice in the dishes you prepare for him. That includes cooking special meals for our fathers and husbands. If your father had a favourite meal, Father's Day is the best day to honour his memory by cooking this special meal and dedicating it to him. Invite your family or friends over and share your happiest memories over dinner.

Bring Flowers to His Gravesite
You can bring flowers, a stone, or even a balloon if you wish. Refreshing his site and taking a moment alone is a nice thing to do on Father's Day.

Make a Donation
In memory of your father, make a donation to a cause he would feel passionate about. Whether it's to help find a cure for a disease or volunteering a few hours of your time to benefit the community, do something your father would feel proud of.

Have a Moment of Silence
Sometimes, we focus too much on "doing" rather than taking some downtime to reflect and recharge. It is okay to feel sad today. A moment of silence might be just what you need to process your feelings and move forward healthily. Focus on celebrating his life rather than mourning his death. Whatever you choose to do, today should be something that will help you remember your father and positively honour his memory.
Sweet and Funny Father's Day Quotes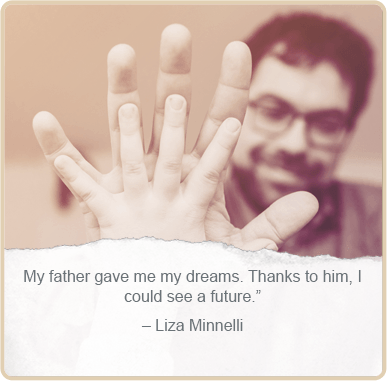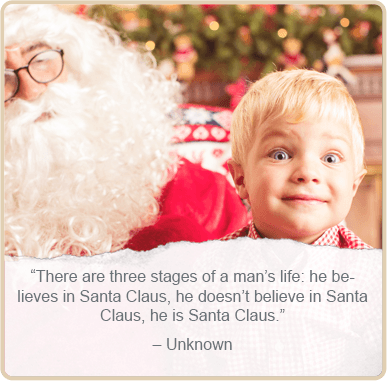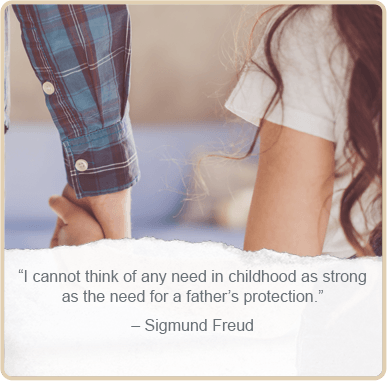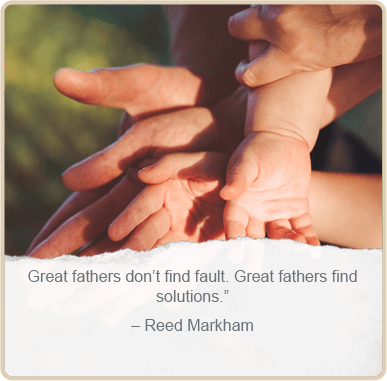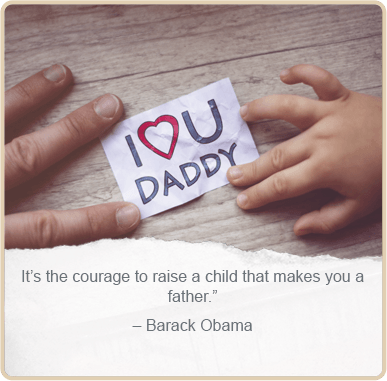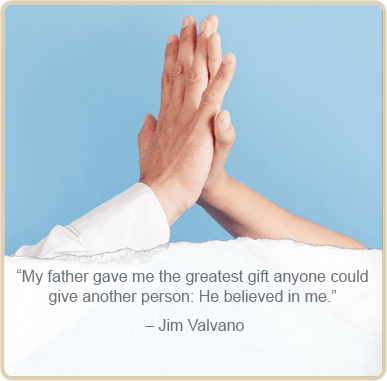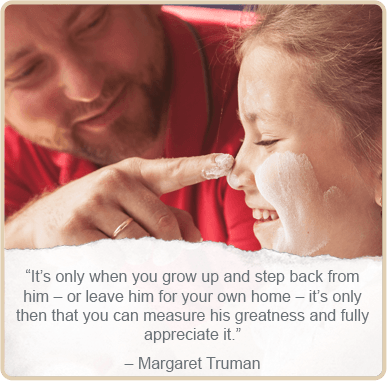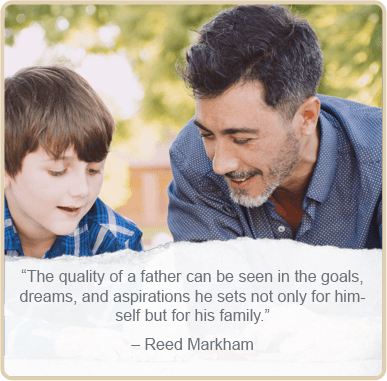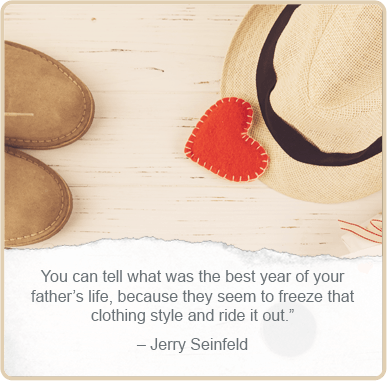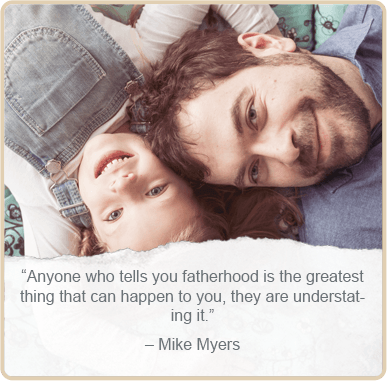 There are endless amounts of ways to make your dad feel appreciated this Father's Day. Among all the good gifts and the parties, the family get-togethers and the BBQs, there's something for everybody. Remember, however, that the most valuable thing is to create more memories by sharing quality time and experiences with him on his special day. After all, that's what half of all Canadian dads have on the very top of their wish list!