Dear Visitor. Here are some genuine messages from our customers. These were not solicited and have not been embellished in any way. We wish to provide a natural account of how people react to our range of products.
Daniel Thomas
The Eternity Rose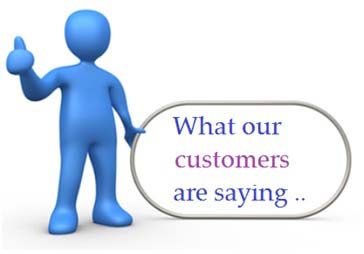 "It was mum's birthday and I wanted to get her something special that would show her how much I love her. I ordered her two Eternity Roses in yellow and pink (her favoured colours). She shed a few tears when she opened the package. I succeeded in reaching my goal. Thank you so very much!"
Cooper J.
"You get what you see! My purchases from the web are mostly disappointing compared to the way the products look on the screen. This time, I was not disappointed. The stunning platinum rose showed up in under 3 days, in such an elegant case. I was thrilled by my mum's response when she unwrapped and opened the box. Several of her friends have seen it and have wanted to know where to buy one for themselves! I will be keen to shop again with you in the future."
Brooklyn J.
"I arranged for a gold Eternity Rose to arrive at my fiancée's hotel room during the morning when she was preparing for our big day. My phone rang and I was startled when I saw her number appearing on the screen. She is a traditional girl and would never break the old-fashioned habit of not talking to me on the day unless it was urgent. Imagining the worst, I answered the phone, and I couldn't get over her response to my gift. I can't recall the number of times she stated she loved me. Her voice was choked up with tears. This was the most heart-warming moment of my life, and our wedding day couldn't have gotten off to a more special and meaningful start. So I thank you enormously for making our wedding day so memorable."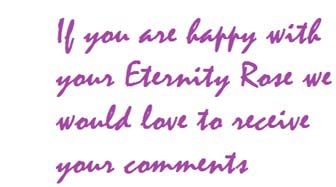 Max Y.
My company had a specifically good year, so I was motivated to find something special and unique for the women on staff to thank them for their hard work. For a long time, I browsed the web for a meaningful gift, but could not find anything suitable that matched the quality and cost/rate of your roses. With the looks I received from everyone at our christmas party as they opened their gifts, I now know what to buy next year for my wife and mum. Your roses are beyond the best of special gifts out there!"
Noah B.
"Everything about The Eternity Rose company is perfect, from the quality of their products, to the rate of shipment and delivery, and customer support. Congratulations on a wonderful company ethic. I won't forget to refer your business details on to others."
Austin K.
"I just bought a silver Eternity Rose and I was eager to write in with my feedback. It is an extravagant flower and arrived in 2 days! Usually I would never hesitate to share my knowledge of such an amazing product with others, but I want to continue buying from you again and leave people feeling impressed with my ability to find such a unique and beautiful gift."
Bray T.
"I was fussy about getting the right gift for my partner. I have actually purchased many roses for her before, and desired something more special than anything I have gotten before. I felt slightly embarrassed about badgering you with limitless concerns, however, you always treated me with patience and respect, and you replied promptly to every message. I was really taken with the high quality product, and above all, she was so impressed with it. So thanks to you, Eternity Rose."
Cam J.
"A special thanks for the gold and platinum Eternity Roses I bought for my mum and dear friend. I have chosen now to buy a silver rose for my loving husband for our 25th silver wedding anniversary coming up. I have been spoiled by him throughout the years with gorgeous roses and flowers, but this rose to him will stay in our house and in our hearts forever, the perfect symbol of permanent love."
Cath O.
"Very few words capture these roses - elegant, gorgeous and sophisticated. It was also a bonus that they arrived in time for an important occasion, given how late I left it to buy something."
Skyler H.
"My son sent me an Eternity Rose for Mother's Day during his holiday in South America. I don't know where to begin in describing my feelings when I saw the most exquisite purple rose. I don't think he will ever be able to match this kind of gift for me in the future, but that won't matter to me. This present makes up for a lifetime ahead of presents given with love."
Lila F.
"Hello. Just a quick note to let you know my roses just arrived and they look great! Sure to be a winner when I surprise my better half. Thanks once more."
Ethan B.
"Nothing beats value for the dollar more than this! I sincerely love the three roses I bought and cannot comprehend how they can be so cost effective (plus the cost-free delivery was a huge benefit). They look lovely in their display cases and I am looking forward to my mum, twin sister and godmother opening them. I am planning to buy again from you for a couple of important events coming up. An Eternity Rose will be the ideal present for such special occasions."
Maya S.
"The roses are lovely to say the least! I felt a bit anxious when buying overseas from you, but your sincere and open communication made me confident to proceed, and I was also impressed with the efficient shipment. I could not discover anything quite so magnificent in my region (Norway). The flowers more than satisfied my hopes, and I'll absolutely buy from you again. Thanks for such good service."
Natalia K.
"Your gold rose won the heart of my sweetheart back – I'm not kidding!! Thanks!"
Ryan L.
"I purchased 2 gold Eternity Roses as a present for my spouse for our 50th wedding anniversary. I really did not expect the overwhelmingly touched reaction I got. She has them in our dining room on display in a sacred place where all her treasured family antiques are kept. Thank you for your lovely roses and for delivering them promptly."
Miles S.
"My partner declared that this was the finest anniversary gift ever given to her! Don't believe I could ever find something as special as this again, so maybe I'll buy one in a different colour for each anniversary. I know she will always look forward to a new Eternity Rose each year."
Zach L.
"I bought a blue Eternity Rose and hoped it would arrive prior to the weekend, however, the courier service slipped up with the delivery details and it was delayed. When I drew this to the attention of The Eternity Rose, they assisted as best they could by communicating with the courier company, and made a few follow-up calls to me with updates. I was really impressed with their reassuring and caring manner, and so despite the fact that the rose came later than hoped, it was worth the extra wait!"
Thomas F.
"The Eternity Rose came today and I cannot thank you sufficiently for your incredible assistance in helping to make this purchase so simple. My wife was so surprised when I gave it to her and it has made up for some difficult personal issues we have both had to deal with recently. It's given us a fresh start. She now aims to purchase one for special people in her life. We will definitely be referring more customers to you."
Cole D.
"The rose & vase set was more than I could have wished for based on my wife's response. It was as though I had bought her the universe. I thank my lucky stars that I discovered your website."
Liam F.
"MY fiancé bought me an Eternity Rose for my birthday. It's now my #1 favourite gift of all time. With the constant compliments I get, others are now leaning towards buying roses from you! Thanks a million!"
Lauren S.
"I bought a gold Eternity Rose for Mother's Day, and when I opened the box, I was really amazed and couldn't help but wish that some man gets one for me someday! I would feel like a true princess."
Cora L.
"My wife received her red Eternity Rose yesterday and what a reaction! Everyone needs to know about your amazing roses and how they can touch their cherished ones."
Josh P.
"I haven't made many purchases online because of some negative experiences, but I had to take a risk on this one when I saw these amazingly beautiful roses you sell. Everything about this purchase has instilled me with the greatest confidence to purchase online again. The Eternity Rose has proven to be an exceptional company. Many many thanks."
Seb S.
"My rose arrived a few days earlier than I expected, so I gave it to my companion this morning. Her expression was priceless so I really felt compelled to write in and declare to everybody how lovely this item is! As well, thank you for your huge efforts in assisting me to select the best rose for her - there are a lot of companies which don't invest this sort of assistance and care in their clients."
Jackson I.
"This rose is LOVELY. The delivery didn't take much time, and the quality of the product is top notch. Thanks for your quick and trustworthy service that matches the high quality of your item."
Alaina R.
"This Eternity Rose was a powerful way to convey to my partner how much she means to me. She was really bowled over, thanks."
William V.
"This rose was the perfect gift for a precious lady. Thank you."
Landon S.
"My wife was mesmerized when I gave her the gold rose last week, which was just the perfect present for our 50th golden anniversary. I was losing time fast in finding something, and it came promptly. Thanks – other people need to know of your service too!"
Elliot B.
"I arrived home after work and the parcel from you was waiting on the living room table. My partner was stunned when I asked her to open the box and she took out the gold rose. It made me feel special and closer to her. Thank you very much."
Mason A.
"FYI, my girlfriend said this rose was the most touching and romantic present she has ever received. She immediately posted it up on her Facebook account and has received many admiring comments. Am so delighted with this purchase right now!"
David P.
"I cannot thank you nearly enough! This Eternity Rose purchase has been such an incredibly satisfying and smooth process, and one I have not had in a very long time with online buying. The flower is charming and real to the pictures and descriptions on your site. Lots of thanks."
Wyatt R.
"I stumbled on your website approximately 6 months ago, but could not help but browse around it. I have since bought a few more Eternity Roses and continued to be amazed each time. My thanks to you have been well overdue. You make the art of gift-giving look so easy."
Bella L.
"My order just arrived and I had to race to my computer to let you know how exquisite your roses are, and I can't wait to present this one to my wife."
Evan A.
"This item is beyond words. The roses I viewed on your site look wonderful, but they are more outstanding in person."
Jasmine E.
"I bought 4 Eternity Roses for my 3 sisters and mother at xmas time. The flowers looked more impressive in reality, and all my family members thought I'd spent a fortune on them. I had the best feeling and wanted to share with others that these roses are simply remarkable!"
Carson N.
"I felt the need to commend you for a great job on such a miraculous creation! The three stunning roses that my youngest son gave me made me cry with joy. They are stunning and will be treasured forever."
Jo C.
"Hello there, numerous thanks for constantly returning my messages so quickly. My rose was delivered earlier this morning. Just thought it would be a great idea that I let you know, the rose is quite sensational. Numerous thanks, truly remarkable."
Sean T.
The gold-dipped roses referred to in these testimonials can be found at this link - Gold-Dipped Eternity Rose

The silver-dipped roses mentioned for a 25th anniversary gift occasion can be found at this link - Silver-Dipped Eternity Rose