Celebrating your anniversary should be something special. You have reached another milestone in your relationship, so deciding how to celebrate your special day is something either one of you or the two of together can work on.
Start by pouring through this list of various romantic and unique ways to celebrate your anniversary. There are enough ideas listed to spark your imagination. Have you ever done something special - that is not on this list - that you would like to share? Please feel free to share in the comment section.
Read on and wishing you a Very Happy Anniversary!
1. The night before your anniversary is a great time to start anticipating the next day. Start by preparing a special breakfast for two. Bake some muffins, or buy some of your favorite pastries. Arrange baked goods, some fruit and a bottle of champagne in a fancy gift basket. Don't forget a tablecloth and napkins.
Place the gift basket somewhere in your bedroom, for easy access in the morning. Rise early on your anniversary and enjoy the sunrise together. Then, head back to bed for a romantic breakfast, and some fun afterward.
2. If rising early to watch the sun rise is not something you enjoy, then stay in bed for a little longer, or, perhaps stay in bed all day! You can still prepare a sweet breakfast gift basket, and then have lunch and dinner delivered to your door. This is the perfect time to reconnect your emotional bonds. Relax in bed and spend some quality time just talking and listening to each other.
For special gift giving, why not slip a gift under their pillow every time they get out of bed? Simple little gifts bring lots of smiles. This could range from a little heart-shaped chocolate to munch on, to a DVD you can watch together.
3. If you both have to work, why not surprise your spouse with a hearty breakfast before heading out the door? If only one of you work, let your spouse sleep in while you tend to the morning meal and child care. Wake them with a kiss and a surprise breakfast in bed.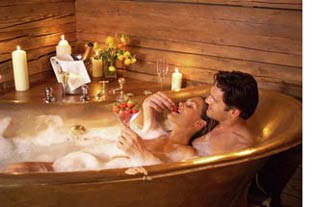 4. Take your morning shower together. Give yourselves plenty of time this morning; you want to get physical, and as sensual as you can be. Wash each other, paying homage to this body you know so well. You know where this is going to lead, so let things just happen. This is a wonderful way to start the day, and will make you smile all day.
5. Spend time before your anniversary going through all your photos. Find really interesting ones and frame them. Frames don't have to match, or even have glass. The night before your anniversary, place these pictures all over your house. Try placing them in such a way that walking through your home, and looking at all the wonderful pictures is like taking a walk down memory lane. Talk about the memories you created together, and the new ones to come.
6. For those who want a little more outdoors adventure, why not go on a sunrise flight on a hot air balloon? For something less adrenaline-filled, why not treat yourselves to a romantic meal at a gourmet restaurant that is normally outside your budget? Or, wine lovers can find a local winery that offers wine tasting.
7. Before your spouse leaves for work, sneak outside and decorate their vehicle with window markers. Be sure to make it sweet and flowery; this will let your spouse, your neighbors, and your whole town know that someone is especially loved today. Don't forget to write "I love you" on there somewhere.
8. Try buying, or making, gifts that relate to the theme of the anniversary. Each anniversary has its own material, flower, color and gemstone. Every anniversary is different. Find our gift tables in our section on Anniversary Gifts by Year that list these items and work from there. And you can also check out our section for a range of Handcrafted Gift Ideas.
9. Phone your partner's favorite radio station and request a well-loved song to be played on your anniversary. Be sure your spouse is tuned in to hear it.
10. Long-time married couples might enjoy renewing their wedding vows. What better way to rekindle your feelings for each other, while strengthening the bond between you?
11. Are you both thrill seekers? Does the thought of a great adventure intrigue you? Why not plan a special activity for your anniversary? Go skiing, or try parachuting or skydiving in tandem. Enjoy something new that is sure to give you the thrills you desire.
12. Flowers are always welcomed on an anniversary. You could purchase a beautiful Eternity Rose, or you could buy your spouse a beautiful bouquet of roses. Always attach a note that expresses your sincere feelings for them, and your relationship. To make it even more special, take the bouquet apart and hide each rose in a separate place around your house. Be sure to attach love notes to each flower. True romantics can then take the roses apart and scatter the petals all over the bedroom floor and onto the bed, leading to a night of fun.
13. Bust out all your photo albums and revisit your wedding day. If you have a wedding video, pop that into your machine and watch your wedding unfold. Be sure to have some champagne and snacks to share while walking down memory lane.
14. Go to the movies, but don't watch it! Instead, make out like teenagers. Sure, it sounds silly, but kissing is such great fun. Remember how much time you spent kissing when you were first dating? Bring back those feelings. Kiss, hold hands, and enjoy each other's company.
15. A great way to create the perfect memento of your anniversary is to book a photo session with a reputable photographer. Go for formal shots, or be daring and get a set of boudoir shots that you can enjoy together in the privacy of your home.
16. Have the two of you talked about finding something different to do? Why not try a new activity together, starting on your anniversary? Whether you take up belly dancing, cooking, skating, or learning to play an instrument, the time you spend together will help you rekindle your love for each other.
17. Spice up your life and share some physical intimacy in out-of-the-ordinary places. Try the kitchen table, the hood of the car that is parked in the garage, or in front of the fireplace. Leave the bedroom during the day, and enjoy exploring each other anywhere the mood strikes (in private).
18. At the same time, try different sexual positions. Missionary gets boring after a while. If you are home alone, get as wild and as crazy as you like.
19. If your schedule allows it, plan a weekend getaway. You don't even need to leave town if you book a room in a local hotel. Surprise your spouse by inviting them to join you in this clandestine meeting. Decorate the room with rose petals, scented candles, and a romantic bath for two.
20. If hotels are not your style, plan a weekend getaway to your favorite camping spot. Add in some cheese and crackers, fruit and wine, marshmallows and chocolate, a roaring campfire under a starry sky, and you have all the essential ingredients for a highly romantic evening.
21. Write romantic notes and hide them all over the house, in the car, and in their clothes. Your partner will be thrilled with each new discovery, and will be touched by the gesture.
22. Want to really surprise your partner this year? Spend a little time to learn or practise a new talent that you can share on your anniversary. Whether it be singing a song, playing a musical instrument, or performing a dance, your partner will be thrilled that you tried out something new and exciting, and are willing to share it with them.
23. If possible, try to get off work the day of your anniversary. This is the day to spend quality time just hanging out with each other. Whether you plan activities outside the home, or have something special planned at home, the point is to enjoy spending time together. Shut off all electronic devices and simply concentrate on enjoying your special day.
24. Cleaning the house is not really romantic. However, if your spouse usually is the one who cleans all the time, helping out is a great way to show them how much you care. There is always going to be laundry that needs attended to, floors and rooms that need cleaning etc. Helping your spouse complete these tasks will leave you more time to spend together as a couple, or as a family. Your partner will be thrilled for the extra set of helping hands!
25. Are you about to celebrate a winter wedding anniversary? Winter is not a good time for outdoor picnics, but that doesn't mean you can't still plan a romantic picnic for two. Pack a picnic hamper with foods you both enjoy. Put some wine or champagne on ice. Light a few candles and throw a nice blanket, or rug, on the floor in front of a roaring fire. Sit down, unpack your picnic meal and enjoy just being together. Feel free to indulge yourself with champagne or wine - neither of you needs to worry about driving home.
26. Recreate your first date. You may live in a different area, but you can plan to do the same things. Did you go to the lake for a picnic? Plan to do that. Did you go to a fancy restaurant? Do that. Whatever you did back then, you can do it now. The venues may be different but it is the feelings of nostalgia that you are trying to recapture.
27. Prepare a very special romantic meal for the two of you. Either of you could surprise the other with a special dinner, or you could work together and create a gourmet meal you will both enjoy. Think about cooking something you may have enjoyed at your favorite restaurant.
28. Choose your favorite movie and spend a relaxing evening after dinner just chilling out. Don't forget the popcorn and candy! A movie night is incomplete without these essentials.
29. Whether you stay home for a romantic dinner, or you go to your favorite restaurant, plan ahead and arrange it so that your special song is playing after dinner. Choose the song you first danced to, or the one you danced to at your wedding reception. Or, you can choose a song that you both enjoy singing together. Your partner will be surprised and touched that you include 'your song'.
30. Plan a surprise trip that will delight your spouse. Secretly pack the car with enough clothes and food for a couple of days away from home. You don't have to go far, and you don't need to spend a lot of money. Simply find a secluded place to stay and enjoy each other's company.
31. Sunset is the ideal time to have an intimate picnic. Either go somewhere where you know you will witness an awesome sunset, or stay at home and enjoy the last of the daylight together. Pack a picnic hamper and eat while the sun goes down.
32. Listen up men, buying your wife sexy lingerie for her anniversary is perfectly acceptable. Include a message promising her a good time later that night.
33. Ladies, don that lingerie and get ready for a sensual massage. Turn your bedroom into your personal massage parlor. Turn down the lights, light a few candles, put on your most relaxing music, and watch the sparks begin to fly. Men, give her a sensual massage, and let her return the favor.
34. If a sensual massage is not something you agree upon, how about playing a few romantic games together? I bet most people are not aware that playing Twister half-naked or naked is a lot of fun. Likewise, playing strip poker can be a blast when it is just the two of you.
35. After all the fun and games of your anniversary have ended, why not finish your special day together by taking a relaxing bubble bath? Bring in a bottle of wine or champagne, light some candles, and relax in each other's arms. The warm water will relax you both and will lead to more fun in bed.
36. If this happens to be a hallmark anniversary occasion such a 25th Wedding Anniversary or a 50th Wedding Anniversary, you can read on more in our sections about celebrating a 25th Silver Anniversary or a 50th Golden Anniversary.
Enjoy yourselves, it's a day worth celebrating!