Details
A real rose, picked by hand at the moment it reaches perfection.
Each rose has been dipped in a gorgeous coating of 24K gold (note that karat is an indicator of the gold's purity while carat is an indicator of weight).
A stylish PU leather display case is included.
The Gold-Dipped Eternity Rose is the ultimate expression of love.
With a high quality, magnificent finish, every item is a unique work of art.
The rose and stem measures around 11.5".
Each rose has a weighty feel and is robust enough to last a lifetime.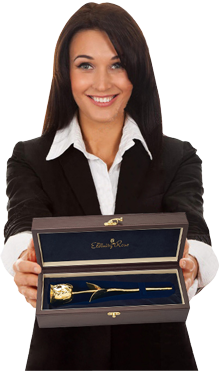 The rose is one of history`s long-standing symbols of true love, passion and beauty. A flower that is perhaps treasured above all others, the rose invokes romantic love, making it a genuinely powerful token of affection. When the rose is paired with pure gold, it becomes even more powerful. For all time, roses and gold have been held in the highest esteem, with a special place in some of the most famous art and literature. Eternally enduring symbols of magnificence, the combination of both elements results in a gift that is both flawless and perfect – the Eternity Rose represents the creation of a masterpiece to last for all time. There is no more unique or precious gift for any special lady to enjoy, and to display in pride of place her whole life long.
If you are searching for the ideal way to impress a loved one on any occasion from a birthday to a graduation, or from Mother's Day to Valentine's Day, the exquisite Eternity Rose, dipped in purest 24K gold, is the most striking way to make her day truly special.
A unique alternative to traditional 50th wedding anniversary presents, the Gold-Dipped Eternity Rose also brings a hint of the romance of those early days of marriage to the occasion of the Golden Wedding. Sure to amaze the recipient, a Gold-Dipped Eternity Rose brings it all together in one token of esteem – the perfection of nature's purest blossom together with the luxuriousness of this precious metal.
The beautiful and elegant Silver-Dipped Eternity Rose is also the ideal gift to give your loved ones on the occasion of their 25th anniversary.
There is no truer expression of adoration than the single rose blossom, and with this iconic symbol as our inspiration, we have turned this token into a magnificent piece of art, and an eternal reminder of your deepest sentiments of love.
When you place an order for an Eternity Rose, you can expect to receive a beautiful real rose blossom that has been grown and nurtured in our own nursery. We are dedicated to cultivating flawless flowers, and our qualified horticulturalists ensure only the most beautiful roses are included in our product range. Under their watchful eye, each bloom is selected and hand-picked at the very moment it bursts into bloom to begin the preservation process.
Each Eternity Rose undergoes a complex procedure of 60 stages to achieve the high levels of quality that we strive for. Over the course of 9 years, we have developed and honed this process, and now we are completely certain that none of our competitors could possibly reach a standard of quality that approaches our own. We use an immersion electroforming process, using our own formulae and processes to apply to each rose an initial layer of pure copper. This preserves the integrity of the rose's structure while providing a texture-sensitive layer that is necessary to retain its detailing, and to form a suitable base to which the precious metal will adhere. This copper coating is followed by a coating of nickel to give extra integrity and strength. At each step, we thoroughly check each rose for quality, and only the most flawless flowers are passed through to the final step, the gold-dipping process.
This delicate sequence of steps to add each layer of precious metal takes many weeks and months, with thin layers added to the rose's surface over time to result in a lustrous mirror finish. Achieving perfection is a time-consuming process, and making each Eternity Rose takes around three months, however the finished product will last eternally, and will neither fade nor corrode with time.
Giving the gift of a Gold-Dipped Eternity Rose is the perfect way to declare the everlasting nature of your love.
Browse the best online geek pranks and trick your classmates and colleagues!