Details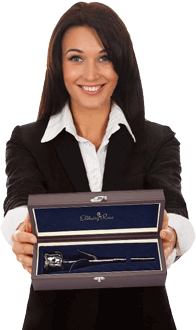 A perfect rose, grown in our own nursery and picked at its perfect bloom
Coated with pure certified platinum
Supplied with its own elegant display case in PU leather
Boasts a glorious lustrous mirror finish
Measures approx. 11.5" long
Robust and hard wearing
A one of a kind work of art that is a symbol of lasting love, eternal friendship and stunning beauty
There are few more iconic symbols of love than the rose, represented in literature and art as a token of romance and beauty. Platinum too has long been associated with undying devotion, and now, The Eternity Rose has blended together these two beautiful symbols into a gift that has elegance and luxuriousness beyond compare.
Show your love for that special someone on the occasion of their anniversary, birthday or even Mother's Day, by offering them a striking Eternity Rose. Both graceful and thoughtful, this is a gift that is certain to adorn the home forever, and will be truly appreciated.
Whereas once, those celebrating their 20th anniversary would receive a gift made from china, today platinum has emerged as the most popular contemporary gift theme. There is no more significant way to commemorate this key milestone than to present the happy couple with an Eternity Rose dipped in certified platinum. The perfect combination of nature and art, this impressive and majestic rose is an exquisite way to show your love for a special someone.
Every unique Eternity Rose starts life as a rose blossom growing in our own nurseries, tended by skilled horticulturalists so that only the finest flowers are selected. When the bud bursts into bloom, the flower is cut by hand and starts the process of dipping in platinum to produce a magnificent and alluring blossom.
The process takes a full 60 steps to reach completion, and takes no less than three months. Immersion electroplating is carried out adopting our own proprietary formula and process. First, the ideal flower base is created by adding a layer of copper. This makes the surface texture sensitive and ensures the flower's structure remains intact. A nickel layer follows to strengthen the flower and prepare it for coating in platinum.
Following the application of each layer, the rose is inspected thoroughly by quality control to check there are no flaws. Every Eternity Rose product is guaranteed to be completely perfect when it reaches the platinum-dipping baths. Many layers of platinum are built up over the course of several weeks until the result is a brilliant mirror finish that cannot tarnish or corrode, but will remain perfect forever.
For any lady who loves the finer things in life, an ideal token of esteem is a Platinum-Dipped Eternity Rose, perfect for all occasions.
Demonstrate your love and appreciation today to your special someone by presenting her with an Eternity Rose.