Details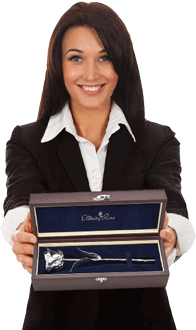 Formed from a genuine rose, each flower is hand-picked at its point of beauty.
The rose is coated in pure silver during a 60-step process.
Supplied in its own elegant navy velvet lined PU leather case.
The silver finish is bright and lustrous.
Measures approx. 11.5" in length.
Weighty and robust.
Each rose is a one-off artwork.
An ideal gift for a silver wedding anniversary.
All over the world, the rose is recognized as the most iconic symbol of beauty and love, while silver has long been acknowledged as a symbol of wealth, majesty and luxury. In art, both attributes are often expressed as a representation of prestige and elegance, and now they are combined to produce an object of desire – the Silver-Dipped Eternity Rose. A gift to delight any woman, this beautiful rose will last forever.
If you have long been searching for a perfect gift for that special woman, you will truly touch her heart with an Eternity Rose. Ideal for all occasions from anniversaries to birthdays and from graduations to Mother's Day, there is no better way to demonstrate your adoration than by giving a Silver-Dipped Eternity Rose. An ideal gift for a silver wedding couple, or for a beloved wife on her own 25th wedding anniversary, this gorgeous rose will amaze and delight any well-loved lady.
The Eternity Rose has taken its inspiration from this eternal love symbol and has turned it into a fabulous artwork that will retain its splendor forever, reflecting the undying nature of love and art.
Made from true natural roses, our skilled horticulturalists keep a vigilant eye on our blossoms until they have reached the perfect stage of bloom. They are then cut by hand, ready to become an eternally treasured piece of art.
There are 60 steps followed for each rose to reach completion, with every stage adding an extra electroplated layer.
Pure copper is set down first, forming a texture-sensitive layer that reveals the natural flower's surface and forms a perfect base for metal plating.
A nickel coating is next, to give structural integrity to withstand the final silver-coating process.
At each step, every single rose undergoes inspection to ensure its perfection in form and plating quality. Having passed quality control, the rose is then electroplated with pure silver over many weeks resulting in a lustrous mirror finish.
Each finished Eternity Rose is placed in its elegant presentation case, nestled within navy-blue velvet to give an impression of striking royalty. This stunning gift may take three months to reach completion, but it is well worth the wait when your loved one receives this magnificent token of esteem.
There is no finer gift for a silver wedding anniversary than the beautiful Silver-Dipped Eternity Rose.
No matter what the occasion, demonstrate your affection with an Eternity Rose, and show that your love will last a lifetime.