Here is an accurate collection of the themes linked with 25 years of marriage. This milestone year is a key celebration all over the world and is connected with a silver theme. Your loved ones will love to receive gifts chosen especially for them.
Modern Gift Theme: Silver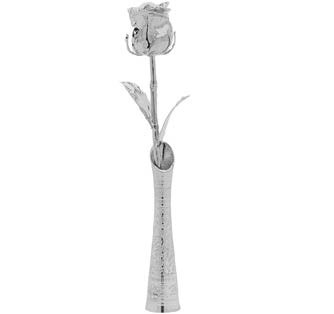 Silver has traditionally been connected with 25 years of marriage for centuries and is entirely suitable due to its brilliance and radiance, a perfect symbol of vision, clarity and awareness.
Flower: Iris
** A Silver Rose is also a highly suitable gift for this Silver Wedding Anniversary
Inspiration for France's royal symbol, the fleur-de-lis, the iris is a true symbol of sophistication and elegance. It also reflects courage, faith and hope.
Gemstone: Silver Jewelry (no associated stone)
Color: Silver
Some Popular Modern Gift Ideas
• Silverwares such as bowls, plates, a goblet, wine bucket, cutlery, tea set or candle holder
• Silver photograph frame
• Silver keyring
• Silver jewelry such as a bracelet, necklace, earrings or ring
• Silver paperweight
• Gifts with a floral theme that involves irises such as scented candles, perfume, a plant or an art print
• A bouquet of fresh irises
Here is a video of the Silver-Dipped Eternity Rose

Here are links to the next 5 anniversary gift-years for you to think about, as well as some information on celebrating a 25th Wedding Anniversary:
More info on the silver wedding anniversary | 26th wedding anniversary gift ideas | 27th wedding anniversary gift ideas |
28th wedding anniversary gift ideas | 29th wedding anniversary gift ideas | 30th wedding anniversary gift ideas |