When you and your loved one is celebrating the 28th anniversary, you may want to select a gift theme from this list of ideas. Tailor a present to the recipient's tastes and demonstrate your affection and esteem by combining colors, ideas and themes that will perfectly suit them.
Modern Gift Theme: Orchids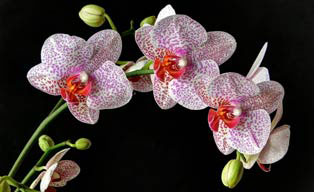 Representing luxury, love, beauty and strength, the orchid was linked in Ancient Greece with virility, while in China it is an indicator of many children, as well as nobility, perfection, friendship and elegance.
Flower: Orchid
** A rose is also suitable in representation of love and romance
Gemstone*: Amethyst; Orchid Tourmaline
* The American Gem Trade Association (AGTA) has not listed any gemstones for commemorating the 28th year of marriage, but these are considered as suitable alternatives, derived from other sources.
Color: Lavender
Some Popular Modern Gift Ideas
• A bouquet of fresh orchids
• Candles scented with orchid
• Orchid stationery
• Orchid paperweight
• A book about caring for orchids
• An art print featuring orchids
• Jewelry featuring an orchid design such as a bracelet, necklace, earrings or ring
• Amethyst or orchid tourmaline jewelry as the alternative gemstones linked to the twenty eighth year of marriage
Here are the following 5 milestone anniversary gift-theme years:
29th wedding anniversary gift ideas | 30th wedding anniversary gift ideas | 35th wedding anniversary gift ideas |
40th wedding anniversary gift ideas | 45th wedding anniversary gift ideas |