70 Years Of Platinum Love
Posted on

May 6, 2019 9:47:00 PM CST

in Relationships by

Marcia Longley
For all couples, reaching a milestone anniversary is a time for celebration. However, when a couple reaches 7 decades of marriage, this is a feat which truly deserves a special commemoration.
When Lorna first met Ainsworth Humphrey in the 1940s, she had no idea that 70 years later she would be celebrating a 70th wedding anniversary with him.
The world in which the couple first fell in love was a very different one from the world we know today, and their love has flourished and grown over the passing decades.
After seventy years of marital bliss, the couple still share a love rarely seen, and they remain blissfully happy together.
Although they're both in their 90s, Ainsworth and Lorna are looking great and they enjoy living independently, surrounded by the love of their family and friends who have been looking forward to celebrating this once in a lifetime event with them.
Marking Such A Special Occasion
It's challenging to find the right gift to mark any milestone anniversary, however for Ainsworth and Lorna's loved ones, there was one gift which stood out from the crowd as the most fitting memento of their long-lasting love.
Few couples celebrate 70 years of wedded unity, but for those lucky enough to reach this occasion, a gift made from platinum represents the traditional symbol.
What could be better to commemorate a 70th wedding anniversary than a Platinum-Dipped Eternity Rose – the perfect reminder of the 70 years the couple have enjoyed together?
70 Years Of Married Unity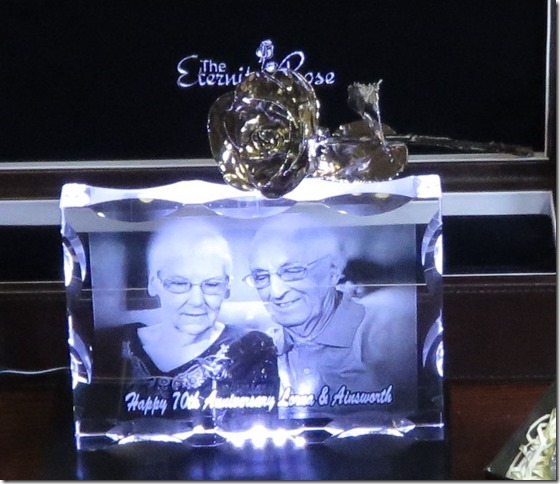 Although most people know the symbols associated with the most common milestone anniversary years – silver for the 25th anniversary and gold for the 50th – we rarely know of couples who have been married for 70 years.
Therefore, few people know that platinum is the material most associated with this milestone year.
Platinum is strong, precious and never tarnishes, making this material the ideal representation of the enduring strength and beauty of a long-lasting union. There is no better symbol to capture the essence of 7 decades spent navigating life's ups and downs together.
The Platinum-Dipped Eternity Rose has been created to be the ideal gift for any couple who is celebrating this momentous and rare occasion.
Crafted over a three-month-long process, each one is created from a natural rose which has been specially selected at its prime stage of bloom. Each gorgeous work of art is then presented in a luxury case, perfect for showcasing the memento which represents a remarkable achievement.
At The Eternity Rose, our team is delighted to have been a part of Ainsworth and Lorna's special day and to have been able to bring even greater joy to the happy couple on their special anniversary.
We would like to wish the pair more wonderful anniversaries in the future.