When you need a gift for your love one in celebration of your 24th anniversary, use this list of themes as your inspiration. Combine these ideas to make a unique and memorable anniversary gift.
Traditional Gift Theme: Opal (United States)
Opal is believed to represent love and hope, as well as purity, innocence, luck and happiness.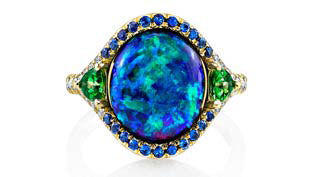 Modern Gift Theme: Instruments
Giving a musical instrument as a 24th anniversary gift is a symbol of everything music stands for – passion, deep emotions and precious memories.
Gemstone: Tanzanite
Color: Lavender
Flower: None
Some Popular Traditional Ideas for Gifts
• Opal jewelry such as a bracelet, necklace, earrings or ring
Popular Modern Gift Ideas
• Musical instruments
• An evening at an opera, concert or musical event
• Music dating back to the time the couple were dating
• Vintage sheet music
• Posters or prints of well known musicians
• Technology relating to music like an iPod or bluetooth speakers
• Tanzanite jewelry such as a bracelet, necklace, earrings or ring
Below are the following 5 anniversary gift-idea themes:
25th wedding anniversary gift ideas | 26th wedding anniversary gift ideas | 27th wedding anniversary gift ideas |
28th wedding anniversary gift ideas | 29th wedding anniversary gift ideas |