Here you can find the most well-known gift ideas linked with the 35th anniversary. Choose any of these items, colors or themes to create a gift perfectly suited to the recipient.
Traditional Gift Theme: Jade (US); Coral (UK & US)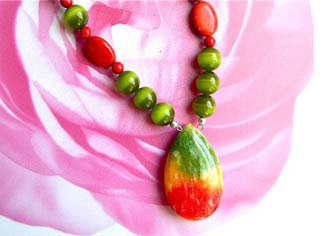 Coral as a color is representative of passion. In the East, coral is precious and is a symbol of success and longevity. Jade, meanwhile, brings luck and has a meaning of wealth, fidelity, lasting love, long life, stability, knowledge, compassion and peace.
Modern Gift Theme: Jade
Flower: None
Gemstone: Emerald
Substitute: Coral; Jade
Color: Coral
Some Popular Traditional Ideas for Gifts
• A gift with a coral theme such as a visit to an aquarium or coral reef or a dinner in a seafood restaurant
• Coral homewares such as a vase, figurine, sculpture or dish
Popular Modern Gift Ideas
• Jade, emerald or coral jewelry such as a bracelet, necklace, earrings or ring,
• Jade homewares such as a vase, figuring, sculpture or dish
Here are some additional milestone anniversaries around the corner for you to think about:
40th wedding anniversary gift ideas | 45th wedding anniversary gift ideas | 50th wedding anniversary gift ideas |
55th wedding anniversary gift ideas | 60th wedding anniversary gift ideas |