Here you will find a comprehensive collection of all the best-known gift themes connected with the first wedding anniversary. Don't feel obliged to stick to any rules as there are no regulations for choosing a gift. Feel free to mix up the themes, the colors and any of the items into something that will suit the person or happy pair.
Traditional Gift Theme: Paper
On the first anniversary, paper is the traditional gift, a material that holds a symbolic relevance to this year of marriage.
Paper is like an empty canvas, just waiting for the couple to paint the landscape of their life together. Like the words that will fill a blank page, the couple's future together is still to be written. Also, paper can be easily torn, a reminder that on this first anniversary, there are many challenges ahead that may strain the relationship. The nature of this gift reinforces the concepts of trust and faith in each other and promotes good communication, an essential part of every successful marriage.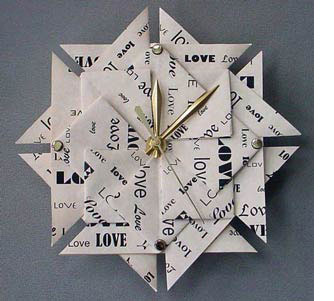 Modern Gift Theme: Clock
In love's domain, time is all eternity, therefore giving a clock on this special year has a deeper significance.
Flower: Pansy; Carnation; Orange blossom.
** A gold or yellow rose is also suitable in representation of the 1st anniversary colors.
The French for "thought or remembrance" is the word pensée, and this is where the pansy derived its name. It holds a meaning of thoughtfulness and consideration for the partner within the marriage.
Carnations have a meaning of passionate young love.
Orange blossoms represent the purity of eternal love, together with innocence, fruitfulness and fertility.
Gemstone: Gold Jewelry (no particular stone)
Substitution: Peridot; Pearl
Color: Gold; Yellow
Some Popular Ideas for Traditional Gifts
• Calendar
• Movie, sports game, concert or theatre tickets
• Stationery
• A map pointing the way to a place that the pair can visit together
• Subscription to a magazine
• Postcards
• Paperweight
• Piece of artwork
• Sheet music of a favourite romantic song or other special tune
• Jigsaw
• Book
Ideas for Popular Modern Gifts
• Wristwatch
• Wall clock
• Egg time
• Alarm clock
• An antique clock
• Kitchen timer
• Sundial
• Gold jewelry such as a necklace, ring, earrings or bracelet
• Jewelry decorated with pearls or peridot (the alternate gemstones linked with the first year of marriage)
• Gold-Dipped Eternity Rose (symbolic of the color gold which represents the 1st wedding anniversary)
• Yellow Glazed Eternity Rose (symbolic of the color yellow which represents the 1st wedding anniversary)
• Gifts with a floral theme featuring orange blossoms, pansies, or carnations (for example scented candles, perfume, a plant or an art print)
• A bouquet of fresh carnations, orange blossoms or pansies
Here is a video of our Yellow Glazed Eternity Rose
Here are the following 5 anniversary gift year themes for you to consider:
2nd wedding anniversary gift ideas | 3rd wedding anniversary gift ideas | 4th wedding anniversary gift ideas |
5th wedding anniversary gift ideas | 6th wedding anniversary gift ideas |