Finding your loved one an ideal gift for the 6th wedding anniversary need not be a chore when you draw inspiration from this list of well-known anniversary themes. Rather than being bound by any rules, you can find a present to match the tastes of your recipient by mixing up the items, themes and colors create a memorable gift that reveals the extent of your affection.
Traditional Gift Theme: Iron (United States); Candy (United Kingdom)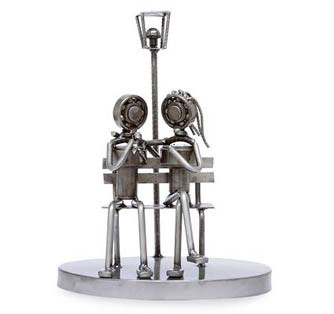 Iron is strong, and indicates the strength of the bond between a married couple. It also bestows good luck on all remaining days of the couple's marriage. The Bible declares that iron represents the natural truth.
Meanwhile candy is a symbol of the sweet nature of marriage, giving the couple the chance to rekindle their passion and the love that first inspired them.
Modern Gift Theme: Wood
The solidity of wood signifies the stability of the marital union, and also stands for the wisdom that a couple have developed over time to forgive each other's mistakes.
Flower: Calla Lily.
** A white or purple rose is also suitable in representation of the 6th anniversary colors.
Calla lilies are a symbol of beauty, and in the Christian ideology, they have been linked with holiness, purity, chastity and faith. On the other hand, its long stalk was considered to be a symbol of lust and sexuality in Roman times. Combined together, these twin concepts signify fidelity in marriage together with the desire between a couple.
Gemstone: Amethyst
Substitution: Garnet; Turquoise
Color: Purple; White; Turquoise
Popular Ideas For Traditional Gifts
• Iron homewares such as bookends
• Prepare or cook a dessert at home or go to a restaurant or cafe for a delicious dessert
• Box of candies
• A candy dish
• A dessert recipe cookbook
Popular Ideas For Modern Gifts
• Wood basket
• An art print featuring trees
• Romantic wood gifts such as a jewelry box or music box
• Wood homewares like bowls, a salad set, a wine rack or placemats
• Bookends
• Wood sculpture
• Wood furniture
• Wood jigsaw puzzle
• Wood chess set
• Turquoise or garnet jewelry as the alternate gemstones linked to the 6th wedding anniversary
• Amethyst jewelry such as a ring, necklace, bracelet or earrings
• Purple Glazed Eternity Rose (symbolic of the color purple which represents the 6th wedding anniversary)
• Pearl-White Glazed Eternity Rose (representing the color white that represents the sixth anniversary)
• A bouquet of fresh calla lilies
• Gifts with a floral theme that involves calla lilies such as a scented candle, plant, perfume or art print
A video of our Purple Glazed Eternity Rose is shown below

Here are the next 5 wedding anniversary gift years for you to consider:
7th wedding anniversary gift ideas | 8th wedding anniversary gift ideas | 9th wedding anniversary gift ideas |
10th wedding anniversary gift ideas | 11th wedding anniversary gift ideas |