When your 5th anniversary comes around, you can check out this list of common gift themes.
Traditional Gift Theme: Wood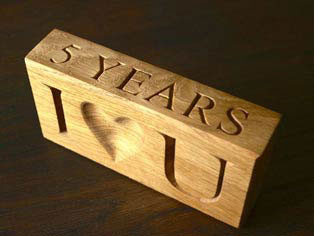 The tree has long held a meaning of wisdom and strength, representing the solidity of a marriage entering its 6th year. By this point, a couple have gained a thorough understanding of each other and are learning to accept each other's mistakes, having acquired forgiveness – the key to a happy relationship.

Modern Gift Theme: Silverware
A silver gift reflects clarity, awareness and vision through its clear and bright appearance. It is also a symbol of strength, focus, purity and persistence. The modern gift of silverware reminds the couple of their bond and connection, such as sharing food at the dinner table together with their joined families.
Flower: Daisy.
** A blue, silver or pink rose is also suitable in representation of the 5th anniversary colors.
Daisies signify purity, confidence, faith and loyalty.
Gemstone: Sapphire
Substitution: Turquoise; Pink Tourmaline; Rose Quartz
Color: Blue; Pink; Turquoise
Popular Ideas For Traditional Gifts
• Wood basket
• An art print featuring trees
• Romantic wood gifts such as a jewellery box or music box
• Wooden homewares such as bowls, a salad set, wine rack or placemats
• Bookends
• Wood chess set
• Wood furniture
• Wood jigsaw puzzle
• Wood sculpture
Popular Modern Gift Ideas
• Silverwares such as bowls, plates, goblets, a candle holder, cutlery, tea set or wine bucket
• Silver photograph frame
• Silver jewelry such as a bracelet, ring, necklace or earrings
• Sapphire jewelry
• Turquoise, rose quartz or pink tourmaline jewelry as the alternate gemstones linked to the fifth marital year)
• Silver-Dipped Eternity Rose (representing the modern gift theme of silverware for the 5th wedding anniversary)
• Light-Blue Glazed Eternity Rose or Dark-Blue Glazed Eternity Rose (representing the color blue symbolic of the 5th wedding anniversary)
• Pink Glazed Eternity Rose (linked to the color pink that represents the fifth wedding anniversary)
• Gifts with a floral them involving daisies such as a piece of art, a scented candle, plant or perfume
• A daisy bouquet
Take a look at our video of the Pink Glazed Eternity Rose
Here are the following 5 anniversary gift years to help you plan ahead:
6th wedding anniversary gift ideas | 7th wedding anniversary gift ideas | 8th wedding anniversary gift ideas |
9th wedding anniversary gift ideas | 10th wedding anniversary gift ideas