Here is a comprehensive list of themes linked with 21 years of marriage. Select from these themes, items and colors and create something truly memorable that reveals your affection for your loved one.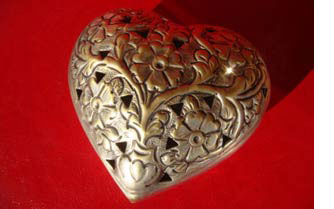 Modern Gift Theme: Nickel or Brass
Durable and strong, brass is representative of lasting relationships. In the Bible, it also means natural goodness.
Nickel has a meaning of consequence and tendency. It also is a symbol of emotional wellbeing, banishing negativity while encouraging spiritual lightness and creativity.
Flower: None
Gemstone: Iolite
Color: Orange
Some Popular Modern Gift Ideas
• Homewares made from brass such as a vase, mug, goblet, dish, plate, bowl, clock, candle holder or bookends
• Brass photograph frame
• Brass figurine, ornament or sculpture
• Brass music instruments
• Brass jewelry box
• Brass keychain
• Brass watch
• Cufflinks made from nickel
• Nickel candelabra or candle holders
• Nickel coins
• Nickel jewelry box
• Door knocker made from nickel
• Lamp made from nickel
• Nickel money clip
• Card case made from nickel
• A letter opener made from nickel
• Brass or nickel jewelry such as a bracelet, necklace, earrings or ring
• Iolite jewelry
Following are the next 5 gift-theme anniversary years:
22nd wedding anniversary gift ideas | 23rd wedding anniversary gift ideas | 24th wedding anniversary gift ideas |
25th wedding anniversary gift ideas | 26th wedding anniversary gift ideas |