One of the most famous anniversary milestones, the 50th anniversary, is a key celebration all over the world. On this most special occasion, it is important to surprise your loved one or the happy couple with a gift that can be treasured for more years to come. Here are the well-known golden theme gift ideas for this special anniversary.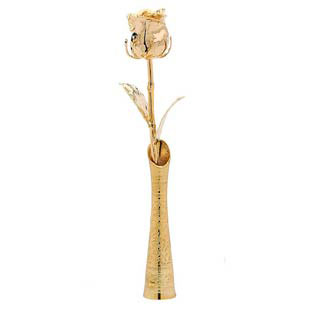 Modern Gift Theme: Gold
There are three characteristics of gold that make it a perfect gift-theme for the 50th anniversary.
First, gold is malleable, shiny, heavy and symbolic of flexibility, possibly the most essential facet of a successful marriage. These attributes reflect the way a long-term married couple can compromise with each other.
Second, gold is resistant to both heat and acid, so giving a golden gift on this anniversary year symbolizes eternity, resilience and perfection.
Third, gold is a precious metal that is most desired due to its rareness.
As alchemists of old tried to turn base metal to gold, so we have pursued for all time a way to alter the unattractive qualities of greed, hate and selfishness into the positive ones of compassion, virtue and love. Gold is often linked with wealth and optimism due to its value, and reaching the milestone of 50 years of marriage is extremely precious.
Flower: Yellow Rose; Violet
** A Gold Rose is also a suitable alternative for the Golden Wedding Anniversary
Yellow roses hold a meaning of joy, light, happiness and friendship, together with a reflection of the beauty in a long, successful union.
Violets indicate faith, virtue, modesty, simplicity, affection and innocence with their understated beauty.
Gemstone: Gold (no associated stone)
Substitute: Gold or Imperial Topaz
Color: Gold
Some Popular Modern Gift Ideas
• Gold topaz jewelry as the alternative gemstone linked to the 50th anniversary
• Gold jewelry such as a bracelet, earrings, ring or necklace
• Gold-Dipped Eternity Rose representing the gold theme of this anniversary year
• Yellow Glazed Eternity Rose representing the floral yellow rose theme of this wedding anniversary
• Gifts with a floral theme linked to violets or yellow roses such as a scented candle, plant, perfume or art print
• A bouquet of violets or yellow roses
Take a look at this video of the Gold-Dipped Eternity Rose

Below are links to further information on this important 50th anniversary tradition, as well as other anniversary occasions and gift ideas:
More on the 50th golden wedding anniversary | 55th wedding anniversary gift ideas |
60th wedding anniversary gift ideas | The anniversary tradition | Handmade anniversary gift ideas |