There are both modern and traditional themes linked with the 18th anniversary, and here we provide a collection of the best known gift ideas to take as your inspiration. Choose from different colors, themes and items to give your loved one a present they will treasure.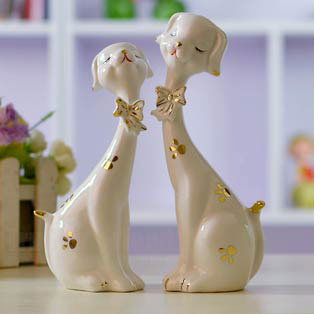 Modern Gift Theme: Porcelain
Delicate, exquisite, elegant and fine, porcelain reflects the essential combination of these qualities within a lasting marriage. As porcelain must be handled careful to avoid breakage, so this 18 year long marriage has been treated with care.
Flower: None**
** As there is no specific flower associated with the 18th Wedding Anniversary, a blue rose is very fitting, in association with the color blue that symbolizes the 18th anniversary occasion, as well as the rose which is a universal symbol of love and romance.
Gemstone: Cat's Eye
Substitute: Opal; Aquamarine
Color: Blue
Some Popular Modern Gift Ideas
• Homewares made from porcelain such as a vase, mug, candle holder, pitcher, jug or serving platter
• Porcelain figurine or sculpture
• Cat's eye jewelry such as a pendant, necklace, bracelet or ring
• Aquamarine or opal jewelry as the alternative gemstones linked to the eighteenth year of marriage
Below are the following 5 anniversary gift years for your contemplation:
19th wedding anniversary gift ideas | 20th wedding anniversary gift ideas | 21st wedding anniversary gift ideas |
22nd wedding anniversary gift ideas | 23rd wedding anniversary gift ideas |