Here you can see a collection of well-known themes linked with the 19th anniversary. There is no need to stick to a particular theme as you can mix or match, choosing any item, theme or color that will best suit the recipient.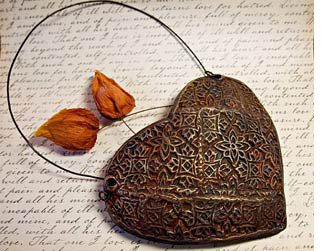 Modern Gift Theme: Bronze
Linked with healing through history, bronze signifies the stability of a healthy long-lasting marriage. A couple who have been married so long have shown support and sustenance to the other partner throughout all the challenges of life.
Flower: Bronze Crysanthemums*
* Although there is no official flower linked with this anniversary, bronze chrysanthemums are perfect flowers for this celebration, with their meaning of excitement to remind the couple to always bring new things to their enduring relationship.
Gemstone: Aquamarine
Substitute: Topaz; Golden Beryl
Color: Bronze
Some Popular Modern Gift Ideas for the 19th Anniversary
• Bronze homewares such as a door knocker, bookends, vase, mug goblet, plate, bowl, flowerpot, plant or candle holder
• Bronze figurine or sculpture
• Bronze windchimes
• Bronze photograph frame
• Aquamarine jewelry such as a pendant, necklace, ring, bracelet or earrings
• Golden beryl or topaz jewelry as the alternative gemstones linked to the nineteenth wedding anniversary
• A bouquet of fresh bronze chrysanthemums
• Gifts with a floral theme involving bronze mums such as a plant, perfume, scented candles or art print
Here are the next 5 anniversary gift years for you to consider and plan ahead:
20th wedding anniversary gift ideas | 21st wedding anniversary gift ideas | 22nd wedding anniversary gift ideas |
23rd wedding anniversary gift ideas | 24th wedding anniversary gift ideas |