Choose a present for your loved one on your 20th anniversary that is inspired by this list of well-known gift themes. Combine themes, colors or items from this collection to express your love and good wishes.
Traditional Gift Theme: China
China is the ultimate symbol of the elegance and beauty of marital love that has lasted two decades, and that has been cared for just like fine china.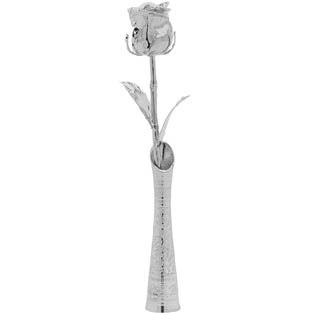 Modern Gift Theme: Platinum
Platinum is a symbol of determination and endurance. Known for its strong, classic and timeless nature, it is very valuable because of its exquisite rareness. This is the very essence of a lasting marriage and promises many happy years to come.
Flower: Day Lily; Aster
** Alternatively a Platinum-Dipped, Green or White Rose is suitable in accordance with the Modern and Color themes that represent the 20th Wedding Anniversary.
In Chinese culture, a day lily means no worries, reflecting the stability of a committed marriage, withstanding the ups and downs of life. The Victorians believed this flower was a symbol of flirtation and playfulness, reminding the couple to relax and enjoy their future together.
An aster means unexpected surprises and is representative of love, elegance, contentment and patience.
Gemstone: Emerald
Substitute: Platinum
Color: Emerald-Green; White
Popular Traditional Gift Ideas
• China home wares (eg, vase, mugs, plates, bowls, jug/pitcher, candle holders, plant or flower pot)
• China figurines or sculptures
Some Popular Modern Gift Ideas for the 20th Anniversary
• Platinum jewelry such as a bracelet, necklace, earrings or ring
• Emerald jewelry
• Platinum-Dipped Eternity Rose representing the modern platinum theme linked to the twentieth year of marriage
• Light-Green Glazed Eternity Rose or Dark-Green Glazed Eternity Rose representing the colour green linked to the twentieth marital year
• Pearl-White Glazed Eternity Rose representing the colour white which is linked to the twentieth marital year
• Gifts with a floral theme involving day asters or day lilies such as scented candles, plants, perfume or art prints
• A bouquet of fresh asters or day lilies
Below is a video of our Platinum-Dipped Eternity Rose

Below are the next 5 anniversary gift-theme anniversaries:
21st wedding anniversary gift ideas | 22nd wedding anniversary gift ideas | 23rd wedding anniversary gift ideas |
24th wedding anniversary gift ideas | 25th wedding anniversary gift ideas |