As everyone enjoys different types of gifts, we can help you pick a tenth anniversary present for your loved one that truly reflects their individual personality. Take inspiration from this collection of established themes linked with this marital year and choose something suited to the recipient.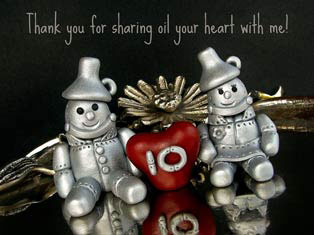 Traditional Gift Theme: Tin (United States & United Kingdom) Aluminium (United States);
Tin is malleable like a flexible and long-lasting marriage in its 10th year. It is also a symbol of preservation.
Modern Gift Theme: Jewelry decorated with diamonds
A diamond has often been said to represent balance, wisdom, clarity and abundance. It is also a symbol of affection, strength, eternity and enduring love. After 10 years, a marriage is as enduring and beautiful as any diamond.
Flower: Daffodil
** A silver or blue rose is also suitable in representation of the 10th anniversary colors
Daffodils are symbols of truth, forgiveness, faith and forthrightness. Ever vigilant, the daffodil returns every spring unfailingly. This represents the unconditional faith and love within a marriage. Even in troubled times, a loving couple will come back together with forgiveness in their hearts.
Gemstone: Diamond
Substitute: Onyx; Crystal; Green Tourmaline
Color: Silver; Blue
Popular Ideas For Traditional Gifts
• Tin or aluminium paperweight
• Aluminium or tin homewares such as a cookie tin, wall sconce, vase, goblet, plate, bowl or candle holder
• Aluminium or tin sculpture or figurine
Popular Modern Gift Ideas
• A diamond wedding anniversary band
• Green tourmaline, crystal or onyx jewelry as the alternate gemstones linked to the tenth year of marriage
• Diamond jewelry such as a bracelet, ring, necklace or earrings
• Bouquet of fresh daffodils
• Silver-Dipped Eternity Rose representing the colour silver which is linked to the tenth year of marriage
• Light-Blue Glazed Eternity Rose or the Dark-Blue Glazed Eternity Rose representing the colour blue linked to the tenth wedding anniversary
• Gifts with a floral theme which involve daffodils such as a scented candle, perfume, art print or plant
• Diamond studded money clip
Here is a video of our Dark-Blue Eternity Rose

Following are the next 5 gift-theme anniversary years which may help influence your decision:
11th wedding anniversary gift ideas | 12th wedding anniversary gift ideas | 13th wedding anniversary gift ideas |
14th wedding anniversary gift ideas | 15th wedding anniversary gift ideas |