Here you can see a list of themes connected with the 14th year of marriage. Choose any or all of the items, colors and themes to create an ideal gift for your beloved.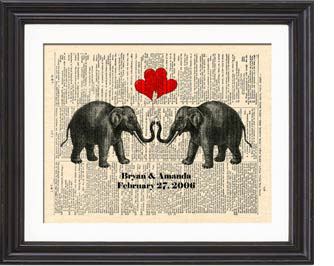 Traditional Gift Theme: Ivory*
*Although in the past ivory was considered to be traditional as a gift for the 14th anniversary, today our elephant populations are endangered and so it is not the most ethical choice. Instead, often elephant-themed gifts are given.
The elephant is recognized as a symbol of stability, patience, strength, dignity and reliability. In Hindu culture, the luck god is an elephant, who brings fortune and protection while blessing all new endeavors. Within marriage, an elephant is representative of these many attributes and is a blessing on a couple's future journey.
Modern Gift Theme:Jewelry made from gold
Gold jewelry is representative of health, power and wealth.
Flower: Dahlia
A gold or white rose is also suitable in accordance with the 14th anniversary colors
A dahlia is a symbol of grace, elegance and dignity, and when given for a 14th anniversary gift, it is significant of the committed bond between a strong married couple who share moral values.
Gemstone: Opal
Substitute: Gold; Ivory; Moss Agate; Kunzite
Color: Ivory
Some Popular Ideas for Traditional Gifts
• Ivory gifts or a bone frame **
• Give a donation to a sanctuary for elephants
• Gifts with an elephant theme such as an art print or elephant figurine
Popular Modern Gift Ideas
• Opal jewelry
• Gold jewelry such as a bracelet, necklace, earrings or ring
• Kunzite, ivory or moss agate jewelry as the alternative gemstones linked to the the fourteenth year of marriage
• Gold-Dipped Eternity Rose representing the modern gold jewelry theme linked to the fourteenth year of marriage
• Pearl-White Glazed Eternity Rose representing the colour ivory linked to the fourteenth anniversary
• Gifts with a floral theme involving dahlias such as a scented candle, plant, perfume or an art print
• A bouquet of fresh dahlias
** Remember that gifts made from ivory are no longer very popular since the elephant population is now endangered. If you like the look of ivory, choose something with this color and texture.
Take a moment to watch this video of our Pearl-White Glazed Eternity Rose

Below are links to the next 5 anniversary gift themes:
15th wedding anniversary gift ideas | 16th wedding anniversary gift ideas | 17th wedding anniversary gift ideas |
18th wedding anniversary gift ideas | 19th wedding anniversary gift ideas |