Our collection of gift themes linked with the 11th anniversary is the ideal way to find a perfect gift for your loved one. Choose one gift idea, or combine themes to show the recipient the effort you have put into choosing a gift that is perfect.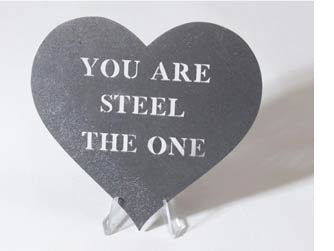 Traditional Gift Theme: Steel
Associated eternally with strength, steel is given on the 11th anniversary to reflect the permanent nature of marriage as it enters its 2nd decade.
Modern Gift Theme: Accessories or Fashion Jewelry
A modern gift theme, accessories and fashion jewelry, is a symbol of fun and joy in marriage.
Flower: Tulip; Morning Glory
** Alternatively a rose is suitable for any anniversary, as it signifies love and romance
While all tulips have a meaning of perfect love, there are color differentiations. In red, they declare true love, yellow represents cheerful thoughts, cream means eternal love, purple is a sign of royalty, white represents purity, pink is a symbol of affection, and orange indicates passion.
A morning glory's short lifespan is a symbol of mortality and affection. It is a sign for the couple to appreciate their love every single day, and represents a new beginning in their second decade of marriage.
Gemstone: Turquoise
Substitute: Hematite
Color: Turquoise
Some Popular Traditional Gift Ideas for the 11th Anniversary
• Homewares made from stainless steel such as a wine chiller, cutlery, wine glasses, clock or candle holder
• Stainless steel figurine or sculpture
• Accessories made from stainless steel such as a key ring or a men's bracelet
• Watch made from stainless steel
Popular Modern Ideas for Anniversary Gifts
• Fashion accessories and jewellery such as a necklace, earrings, bracelet, ring, scarf or hat
• Turquoise jewelry
• Hematite jewelry as the alternative gemstone linked to the eleventh wedding anniversary
• Gifts with a floral theme that involves the morning glory or tulip such as an art print, plant, scented candle or perfume
• A bouquet of fresh morning glory or tulips
And here are 5 more years of anniversary gift themes which may help your planning:
12th wedding anniversary gift ideas | 13th wedding anniversary gift ideas | 14th wedding anniversary gift ideas |
15th wedding anniversary gift ideas | 16th wedding anniversary gift ideas |