While there are no clear rules over gifts for the ninth anniversary, there are many well-known themes that we show here. You may use them to help you decide what to give your loved one, picking and choosing from this selection of colors, materials and flowers to come up with a present that is unique.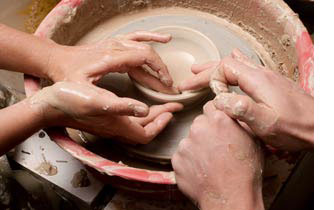 Traditional Gift Theme: Willow or Pottery (United States); Copper (United Kingdom)
As a marriage evolves over time, becoming ever more beautiful, so pottery is sculpted and changed.
The willow is famous for its graceful look and flexible nature. On the 9th anniversary, it is the perfect symbol of the way two people can work together, giving and taking.
Malleable and yielding, copper symbolizes wealth, strength and beauty and reflects the way a married couple compromise and find balance with each other. As it also conducts electricity and heat, it reflects the warmth and passion of the couple.
Modern Gift Theme: Leather
Flexible and strong, leather is a reflection of the stability of a loving marriage.
Flower: Poppy; Bird-of-Paradise
** A rose is also suitable for any anniversary, as it signifies deep love and romance.
The poppy is a symbol of extravagance, imagination and eternal sleep, reflecting the contentment and peaceful nature of a marriage in which the couple pursue their common dream.
The bird-of-paradise is representative of joy, faith, magnificence and splendor. It also promises travel and exploration of new adventures together.
Gemstone: Lapis Lazuli
Substitute: Tiger Eye; Andalusite
Color: Terracotta
Popular Gift Ideas For A Traditional Ninth Anniversary
• Picnic basket made from willow
• Pottery homewares such as a vase, dish, bowl, mug, jug, pitcher, flowerpot or candle holder
• Pottery figurine or sculpture
• Pottery classes
• Copper homewares such as a vase, goblet, mug, dish, bowl, pitcher, jug, clock, flower pot or candle holder
• Copper figurine or sculpture
Popular Modern Gift Ideas
• Accessories or clothing made from leather such as gloves, a belt, a cap, a jacket or slippers
• Leather photograph album
• Leather holder for a passport
• Leather book bag, handbag or wallet
• Leather briefcase or computer/laptop case
• Leather-bound diary
• Blank leather-bound journal
• Lapis lazuli jewelry such as a bracelet, earrings, ring or necklace
• Andalusite or tiger eye jewelry as the alternate gemstones linked to the ninth wedding anniversary
• Gifts with a floral theme that involves the bird-of-paradise or poppy such as an art print, plant, scented candle or perfume
• A bouquet of fresh bird-of-paradise blossoms or poppies
Below are the upcoming 5 anniversary gift-theme years if you want to plan ahead:
10th wedding anniversary gift ideas | 11th wedding anniversary gift ideas | 12th wedding anniversary gift ideas |
13th wedding anniversary gift ideas | 14th wedding anniversary gift ideas |